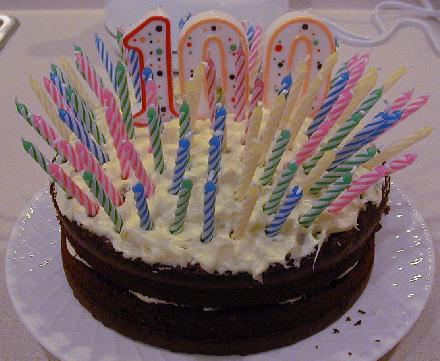 I've been thinking about what to do to commemorate my 100th post. This whole blogging this is new for me. It's fun. It's a way of life. I want to keep it up. I'd love for it to take me places. Alas, I'm at a loss for bright new ideas to mark my 100th post. 100 for cryin' out loud! Brain drain and the slow brain cell leakage of summer have set in. Alas, I'm settling for sharing 100 things about myself, the matriarch of Dirt & Noise. Sit back, grab a cocktail, hell, grab the entire shaker, and perhaps some No Doz to keep those lids open. You just might be amused or baffled along the way.
Thanks for sticking with me for 100 posts. Cheers! Here's to 100 more, many times over!
1. I don't really know a damn thing about blogging. I'm just giving it a whirl as an outlet to write, test the waters, and see where it takes me. I'm hoping this becomes my job one day (lofty goal, I know!) and opens up opportunities to write more. I've encountered some incredible writers, remarkable stories, and cool cats along the way. And it helps me vent to ease the burden on Mac Daddy.
2. I'm not a picky eater at all, but there are five foods I won't touch with a pitchfork: liver, lima beans, cherries, raisins, black licorice.
`
3. Crème brulée is my favorite dessert. The Opera House in Madison, Wisconsin has the best I've had Stateside. Oh, and Mo's Diner in Raleigh, North Carolina too.
4. Mac Daddy and I met at work. It was an illicit office romance, kept under wraps lest one of us get pink slipped. Or so we thought, everyone knew the gory details when we came out of the closet. The laugh was on us.
5. The sound of malted milk balls shaken in the carton is my favorite sound (aside from Bird and Deal busting a gut laughing).
6. Audrey Hepburn is my hero. I first fell in love with her when I was 16 and saw Breakfast at Tiffany's for the first time. I'm still trying to forgive Mac Daddy for not loving the movie as much as I do.
7. Shoes are my weakness. Handbags are my passion. Yes, I'm superficial and struggle with it everyday. I don't pay full price for shoes, but a decent bag that will last a lifetime is worth every penny. To a limit, of course. Even my Fendi was purchased for half price at a rare sale at Galleries Lafayette.
8. I speak genug Deutsch et Français to get by. Bird will be learning French starting in kindergarten this fall.
9. I went to college in the same . I'm dying to go back even though I found it quite dull and sleepy growing up.
10. We didn't find out the gender of our babies before they were born. I'd do it that way again even if I had 10 kids. It is truly life's greatest surprise…and reward. And I'm no competition for
Michelle Duggar
. Two's enough pour moi.
11. I can't stand to be barefoot unless I'm on the beach or in my own clean house. This has more to do with cleanliness issues that my penchant for shoes.
http://www.blogger.com/img/gl.link.gif
12. Red toenails make me happy. Well, just my own toenails. Not red toenails in general. That would be a fetish. And fetishes are creepy. The stuff that crams the Internet and our in-boxes with crap.
13. I've never been to a strip club. The thought of one saddens me.
14. I went to school in Nottingham, England for a bit when I was 11. The snooty kids in blue blazers with gold buttons and schools seals emblazoned over the left pocket teased me incessantly saying, "She's the girl from VA-GI-NA!" instead of Virginia. That was my defining moment, forcing a shy geeky girl to stand up for herself. I came home a new, assertive, confident girl.
15. I've read everything that Barbara Kingsolver, Rebecca Wells, J.D. Salinger, Anita Diamant, Toni Morrison, Tom Wolfe, Amy Tan, F. Scott Fitzgerald, J.K. Rowling, Isabel Allende, and, John Irving ever wrote.
16. Not a day goes by that I don't regret going to medical school. It's not like I gave up the chance; I couldn't pass the prerequisites to get in. Still, I love all things medical.
17. Purple is my favorite color, and I think orange is the most overlooked color. Pastel peach should be outlawed.
18. I think George Clooney dumped Sarah Larson to be with me.http://www.blogger.com/img/gl.link.gif
19. I've seen Neil Diamond in concert eight times, Barry Manilow twice, Jimmy Buffett at least 12, the Grateful Dead about six times. I'm planning on seeing Journey, Cheap Trick, and Foreigner this summer. I bet you wish you were as cool as I am.
20. I count on my brother and to keep me up to date on pop culture and all things cool. So far they have their work cut out for them.
http://www.blogger.com/img/gl.link.gif
21. I am a dork at heart. Hard to believe, I know.
22. I have a favorite temperature. 82 degrees.
23. I had bunion surgery once; it was worse than childbirth. I'll never get the other foot done.
24. I used to be a 32 DD until Dr. Christensen came to my rescue in 1999.
25.
Gossip Girl
is my guilty pleasure. I'm in love with
Penn Badgley
.
26. I can't ride a bike.
27. The worst thing about parenting is other parents.
28. I don't have any friends who are shorter than I am. My 60 inches only tower over toddlers at the playground.
29. I love driving on smooth, freshly resurfaced roads with crisply painted white lines.
30. I believe in ghosts and life in outer space. It's that whole belief in God thing that has me mixed up.
31. I hold my pencil incorrectly, which serves as a poor example for Bird. Nonetheless, I think I have lovely penmanship. Penmanship is so overlooked and undervalued in this technical age we're in. Nothing beats a handwritten note on lovely stationery. I used to spray Wind Song on the letters I wrote to John Blackburn when he was away at camp the summer before eighth grade.
32. Helicopter moms stress me out and piss me off. I bet none of them reads my blog. Or at least none enjoys it and can relate.
33. My hope is that my boys grow up to be the best man at each other's whttp://www.blogger.com/img/gl.link.gif
eddings.
34. I like my men clean cut and clean.
35. I use cheap shampoo and don't notice a damn bit of difference when I use the good stuff. Hotel freebies are better than what I buy. And note that I'm not staying at the Waldorf or anything.
36. David Sedaris kills me. His brother did the in our house, and he sounds just like David.
37. I've written letters to only two famous people: Jimmy Carter and Lucille Ball. They both wrote back.
38. Baseball is the most boring sport ever. It should be five innings max. And they should sell beer until the game ends.
39. Sometimes I trip over my own two feet while standing still. I was not graced with an ounce of athletic prowess.
40. Extraordinarily obese people kinda gross me out.
41. Discovery Health is my favorite channel, but the ER shows freak me out.
42. My children have not made me want to poke fork tines in my eyes for two days now. They have actually been utterly delightful, and I haven't raised my voice once. Mark this day as an historical event.
43. One time I threw an iron at Mac Daddy when we were fighting. It wasn't turned on, but it was a crazy, nut job thing to do. I regret it still.
44. My letters home from boarding school bore the return address of "Foxcroft Penitentiary."
45. I hate puppets and clowns. When I first moved to Minneapolis there was some weirdo hanging out at playgrounds dressed as a clown and wielding a machete. They never caught the guy.
46. I aspire to have my own habitable planet one day where I can make the rules. One rule would be no Republicans or other conservatives allowed unless in a mute, subservient capacity. Villainous, I know. No turning the other cheek for this girl. I am mad and want some retribution, even if it's only in my imaginary world.
47. I am addicted to Chapstick and keep a tube in every bag I own, in my desk, in my glove compartment (Mac Daddy's too), on my nightstand, and in the kitchen junk drawer.
48. I can put my whole fist in my mouth.
49. Funny people inspire and intimidate me at the same time.
50. Money does not drive me.
51. I wish I were 10 inches taller. I'll never be able to dance with my head on Mac Daddy's shoulder. Even Frederick's of Hollywood doesn't make
heels high enough
for that.
52. I aspire to be crafty. Somehow copying a craft idea from a family fun website feels like cheating.
53. Black and white photography moves me in ways color photos cannot.
54. Mac Daddy and I got married in Key West, with only our dear friends Shannon and Chris with us.
55. I haven't slept through the night for a good year now. Call me if you're ever up at 2:00 or 3:00 AM. I'll either be Twittering, reading blogs, or window shopping on eBay.
56. I've
donated my hair
twice.
57. A fine watch is the best accessory in my humble style opinion. That goes for men and women. Nothing too glitzy and gaudy.
58. My best friend growing up was Portia. I never knew she http://www.blogger.com/img/gl.link.gif
was named after a until high school. Before that I somehow thought her folks were cool for naming her after a sports car. Portia had a dog named Ginny. I can remember the exact floor plan of her house, though it's been a good 30 years since I stepped foot in it.
59. I hate cedar closets. Why do I want to nod off in sheets that smell like a hamster cage?
60. I am TERRIFIED of snakes. Even the illustrated ones in children's books frighten me. Bird and Deal flip through library books to determine of there are any that I can't read.
61. Though I never spent much time with my Nani, I remember the taste of her food as if a pile of home made, hot luci were piled in front of me. My mom's cooking is pretty close to my Nani's, but everyone knows that a grandma's food is the best.
62. Crunchy, not creamy peanut butter. Definitely not creamy.
63. Sitting on the dock at the
University of Wisconsin Union
with Mac Daddy, Tony, and Cathy on a perfect summer day (see #22) was one of the most carefree, decadent, fun times of my life.
64. I love to cook and wish I could master a roast and gravy like my mom's.
65. I cannot bake a thing. Not a damn thing. Not even slice and bake Pillsbury cookies. Not funfetti cake in a box. Not even the cookies that come sliced and ready to bake. I mean it. Just ask my family.
66. I am tone deaf but played the trombone for four years. I was even in the marching band and was the only girl in the entire brass section. I chose the trombone because I wanted to initially play the drums, but my band director said, "Girls don't play drums. Now pick something else." My way of flipping him the bird was to choose something equally unladylike and dared him to tell me no twice.
67. I have just discovered tennis and I am addicted. I love it for the exercise, the fun, and the flirty skirts.
68. I have only one giant eyebrow. The fine ladies at Hayes Barton Nails ensure that I fool the world into thinking I have two separate ones.
69. I don't understand a thing about home schooling. In fact, I think it's kinda strange.
70. I have a pair of jeans from high school that I can still wear. They are tattered in a way that only Amy Winehouse would sport, but I won't part with them.
71. I know every word to Paradise by the Dashboard Light and American Pie.
72. My eyesight improved with each pregnancy. Now I don't wear glasses or contacts anymore. Those babies gave me back fat, but at least my eyes are 20/20.
73. I hated Star Wars, Star Trek, Spaceballs, and all the Police Academy movies.
74. I don't have a handy bone in my body. There are at least three nail holes behind every picture I've hung in our house. Luckily my friend Christy loans out her husband Dominic to be our personal Schneider.
75. I love being part of a big family. Mac Daddy is from a family of six kids and umpteen nieces and nephews. I don't love it enough to procreate more.
76. I am both ecstatic and a bit saddened by the fact that I will never changhttp://www.blogger.com/img/gl.link.gif
e diapers again.
77. When I was in high school I had a
poster of David Lee Roth
hanging over my bed. I also had one of Sting with a cartoon bubble stuck on that read, "Will you be wrapped around my finger?" I had no idea what those dirty connotations were back then.
78. Send me
dendrobium orchids
if you ever want to impress me, suck up to me, or cheer me up.
79. There is no room for hypocrisy in my world. Closed minds are also not tolerated.
80. I wish I had the confidence, talent, smarts, and humility that my friend Tonya has.
81. I wish I had the good nature and discipline that Christy has.
82. I wish I had the sense of humor that Tony has. I've mentioned him a lot. He's one of my favorite people.
83. I joke that Mac Daddy married his trophy wife the first time. We all really know that the truth is, I so married up. I thank my lucky stars every single night that he chose me. And then I pray not to fuck it up.
84. Cream cheese frosting is my weakness. The fake canned stuff. Whipped. Just a finger full every time I open the fridge. On the sly, of course. I must set a good example for Bird and Deal, right?
85. Once I had an Excel database of homonyms. Think about it. Homonyms are freakin' everywhere. Where. Wear. Ware. See? Sea.
86. Numbers elude me. I could never grasp the concept of intrinsic value when I was learning math in first grade. Why is 1 + 1 not 11?
87. I hate nature. This is becoming a problem since I have two boys who love to explore in the woods and pick up every creepy crawly that winds its way onto our path. I'm trying to keep my disdain for nature under wraps lest I set a bad example. You sensing a theme here? By the way, my dislike for nature in no way means I do not support saving nature. I'm all for protecting the planet. I just don't want to touch anything dirty, slimy, fuzzy, wet, or sticky.
88. Baths are gross. We don't even have a tub in our master bathroom. In boarding school we only had tubs, so my long hair used to get stuck down the drain when I washed it. Plus, I don't the concept of sitting in my own filth. You know it ain't Calgon turning the water that funny shade of beige.
89. If we had a daughter we would have named her Audrey. See #6.
90. My dad and I have a strained relationship that is perhaps beyond repair, yet he has taught me everything I know and set the example I follow to be a good, decent human being and parent.
91. I learned to laugh and enjoy what life throws my way from my mother.
92. We hate George Bush so much in our household that we refer to the boxwoods in front as shrubs; no mention of the word "bush" in our home unless you desire a lashing.
93. All my cheering at the North Carolina Obama rally left me without a voice for four days. Four whole days of not being able to yell at my kids and order around my husband.
94. I love my Apple. Not enough to name my child Apple, however.
95. Tetris is the most advanced video game I've ever played. It stresses me out. But now I want a Wii. Surely it will help my tennis game.
96. Madison, Wisconsin was my favorite place to live. We'd still be there if it weren't winter for more than half the year. The Union is the best place on the planet to chill out.
97. I was once a groomsman in my friend Marc's wedding. I did not wear a tux. He and his wife had the good sense to let me wear a dress and stand by the groom. I'm pretty sure this was Julie's doing.http://www.blogger.com/img/gl.link.gif
98. Once as a bridesmaid I had to wear a with a dress that looked like Scarlet O'Hara's drapery couture. The bride and I are not friends anymore. It had nothing to do with the hoopskirt. Really.
99. I can pack three week's worth of stuff in a rolling carry-on suitcase. Not including kids' stuff, just mine. I've done it. I never checked a bag until I had children.
100. I am my own best audience.