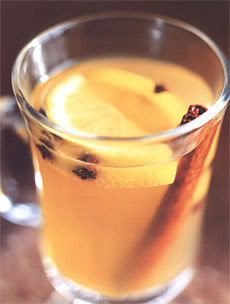 There's been a chill in my bones ever since Mac Daddy and I
stood out in the teen temps in DC for inauguration
. I just can't seem to shake the cold, my body seemingly covered in goosebumps for the long haul to spring. I'm so hotly clad in fleece, fluffy shearling slippers, and a scarf at any given time of day. A sexy sight to behold, I'm telling you. I'm considering getting some of those fingerless gloves to wear around the house too. And for you readers from the tundra states, I could use a pair of ear muffs. Perhaps it was a mistake to
whack off 11 inches of hair
in the dead of winter. Brrr.....
So in an effort to warm up, I'm making a Hot Toddy today. And for those of who know me, you are well aware that I have my very own personal Hot Toddy with me every night. hubba hubba
Hot Toddy
1 oz light rum (Mac Daddy prefers to use whiskey, but that stuff gets all up in my nostrils and makes me shudder.)
1 teaspooon honey (I use a
heaping
teaspoon.)
1 slice of lemon studded with a few whole cloves
1/4 teaspoon of grated ginger (Do not, I repeat,
do not
, use the powdered stuff that's been sitting on a grocery shelf for months. Freshly grated ginger only. Omit this if you don't have any on hand.)
Combine the rum, honey, lemon slice, and ginger in a big ole mug. Add hot water to fill. Stir with a cinnamon stick, which does double duty as garnish.
I feel the chill vanishing already.