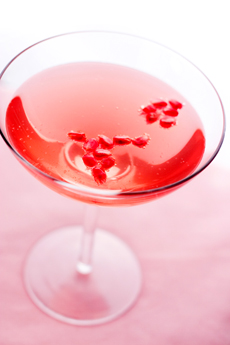 First things first,
DC Urban Dad
is the winner of last week's Dirty Sue giveaway! I'll be in touch about deets to get your shirt size and all. Big round of applause to honing your tastebuds for your new favorite drink!
Tomorrow we mark the most Hallmark of holidays, the one whose hallmark is a bounty of over priced chocolate and roses.
I'd like to toast all of you with a special Valentine's cocktail I conjured up. I think it sure beats a bouquet fluffed up with baby's breath filler and box of waxy Russell Stover.
My Funny Valentime
(Do all children pronounce it like this or just mine?)
1 ounce orange vodka (I'd go with
Absolut Mandrin
.)
1 ounce vanilla vodka (Mix it up and use
Stoli Vanil
.)
3 ounces pomegranate juice
Vanilla bean
Pomegranate seeds
Shake all the ingredients over ice. Pour into a martini glass. Split the vanilla bean and add to the glass for garnish. Sprinkle in a few pomegranate seeds for a finishing touch of symbolism. Pomegranates are, after all, an aphrodisiac. Ooh la la! I'm making myself blush.
A few of these will turn you into a cheap date before you can say metamorphosis.